Earlier this year, Connan Moody of Academy Coffee1 and Jake King, Coffee Director at Bold Monk Brewing Co., unveiled a coffee training program in Atlanta called GYST.
The "gist" of the program is to help coffee professionals level-up their skills, from getting better at latte art, to becoming a more empathetic manager, to creating a more compelling coffee/signature beverage program.
Atlanta Coffee Shops was on location at Academy Coffee earlier this month to meet with Connan (and Jake) to learn more about GYST.
What Can You Learn with GYST?
GYST Coffee Training does not have a set curriculum of the training it provides. Rather, in its early stages, GYST seeks to help coffee professionals by tailoring tutorials/lessons on what its trainees desire. The ethos of GYST is "Training on your terms."
Following are examples of what others have been interested in getting training for the first few weeks of operation:
Latte Art

Dialing In/Palette Development

Building Your Service

Management Tricks

Menu Development

Tea Programming
Connan, Jake, and the rest of the team at GYST approach this endeavor with a sense of humility—they know they don't know everything, but they have picked up a great set of "tips and tricks" over the years. The team at GYST has a combined 60+ years of coffee/barista/management experience.
Perhaps the most compelling element to those that seek to gain additional coffee experience/training is that GYST offers coffee training for FREE (thanks to the support of sponsors; see below in the Q&A).
View fullsize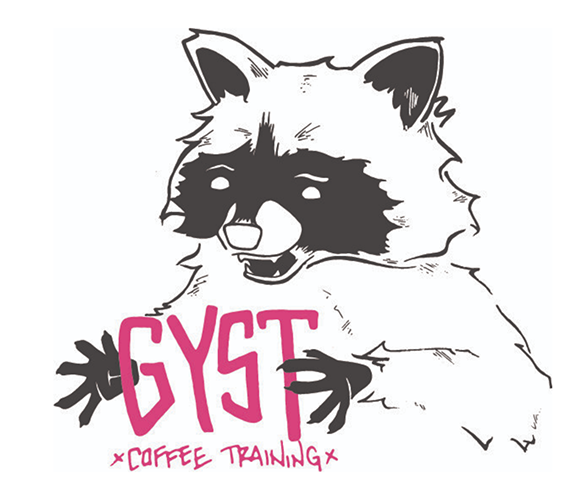 GYST Coffee Training—the logo. Find out more in the Q&A.
A Q&A With Connan Moody about GYST Coffee Training
Following is a Q&A that Atlanta Coffee Shops conducted with Connan Moody to learn more about GYST Coffee Training.
ACS: How long have you had the idea or vision for the barista training program? How long have you worked behind the scenes with Jake on GYST? What were the biggest obstacles to overcome before finally unveiling GYST to Atlanta/ the world?
GYST: The idea of GYST is something that has been kicking around in our heads for quite some time. With Jake moving back to Atlanta a couple months ago, it kind of just fell into place. He had a similar idea and with him looking for his next step in coffee, it just made sense. As for the legwork for making GYST a viable project, I saw the start of the year as a good time/motivator for really digging into it and seeing if it resonated with people in the industry.

ACS: How did you come up with the name GYST? Who came up with the logo?
GYST: So the name is a play off of the the word jist or gist meaning to capture the essence of a thing. So when looking to teach people skills in coffee we are working to have people capture the 'gist' of the teaching. It was just kind of a word play that worked with the ideas. The logo is one of my creations. We were looking for something fun and not intimidating. We were talking and trash pandas aka raccoons came up and it just kind of felt right.

ACS: The website mentions that "Between our instructors we have 60+ years of experience in the coffee industry." You mentioned during the visit yesterday there are 3 or 4 more people involved in addition to you and Jake. Can you share a bit more information about the other members / teachers at GYST?
GYST: Our project is only as strong as the community that supports it. Whether that means, instructors that donate their time to share their experience in a coffee career, or baristas looking to further their skills, it won't be successful unless it is supported in both ways. As for our instructors, we have five in total. Since our last speaking, we have published bios on our website for each of the professionals donating their time.
Editor's Note: scroll down the GYST page here to learn about Diana Mnatsakanyan-Sapp (an SCA educator and current Southeast Market Development Manager for Oatly), James (wholesale director of coffee at 1000 Faces Coffee), and Alex.

ACS: From the first two days of training held, what were some of your early takeaways? What worked and what are you looking to change, if anything?
GYST: Honestly, it has been an amazing experience. We have held trainings for people across all levels of barista. We have seen the impact of the first couple trainings and are eager to see people sign up for more follow ups. We want to increase our ability to see/train more people and in order to do so it will be necessary to figure out how to structure more theoretical based classes as well as things that may not need access to an espresso machine. So far it has been awesome and it shows no signs of slowing.

ACS: Is there anything you'd like to share about the current sponsors of Gyst? Who else is on your mind (Nuova Simonelli)?
GYST: We have been endorsed by a plethora of wonderful sponsors both local and larger. We have reached out to many companies that we think help establish excellent coffee service. So far we have sponsorship from the following brands:
ACS: With respect to GYST being a resource for baristas, do you think the concept could be extended to people who aren't in the coffee industry (baristas) but want to hone their skills? Will you possibly extend the reach of GYST to a greater audience (the general public) in the future?
GYST: As we move into the future we would love to bring in the general public. For us to maintain this idea we would need a dedicated space and it would likely be classes at a lower fee. As for how we are trying to move towards public inclusion sooner, we are going to host public education talks on topics that affect our industry and others. We are inviting our sponsors to come out and talk more about their views on industry. We will also be hosting talks from people in different fields that may crossover into industry.

ACS: Is there anything else you'd like to share about GYST that you haven't previously shared or want a wider audience to know about?
GYST: There are 5 seats at the bar in Academy that are available for spectators every Monday. Feel free to come sit in and get learnt.
Grand Opening Celebration of GYST Coffee
To celebrate the launch of GYST Coffee Training, Bold Monk Brewing Co. is hosting a launch / opening party for GYST Coffee on Thursday, February 27 at 7PM.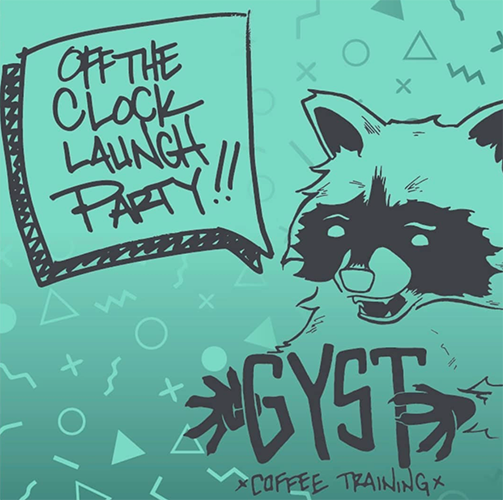 See details here or in this Instagram post.
Final Say
The team at GYST is committed to ensuring the success of the coffee industry in Atlanta. As they write: "Whether you are a baby barista, 'spro slinging veteran or anywhere in between, we got you."
If you are interested in learning more, check out GYST Coffee Training on the web and sign up for an upcoming time slot "to get learnt."
---
GYST Coffee Training
Trainings: Mondays at Academy Coffee
---
Footnotes and References:
A full feature profile of Academy Coffee is in the works, slated to be released sometime in 2020. ↩