Like many of you, Atlanta Coffee Shops has been vigilant and paying attention to the day-to-day developments in the outbreak of COVID-19 (Coronavirus) pandemic around the world.
Following the post about how Atlanta Coffee Shops are doing, ACS wanted to highlight some other ways you can provide support in your local community in Atlanta.
Listed below are some organizations and non-profits that need your help (either via monetary donations or volunteering).
Editor's Note: this is an evolving post, and will be updated as more suggestions are trickling in.
---
Open Hand prepares, packs and delivers nearly 5,000 healthy meals each day throughout metro-Atlanta for those who might otherwise go without. We hope you'll take a few minutes to experience their stories and the stories of those who are dedicated to help us serve them.
You can donate individually or volunteer for meal delivery or meal packing.
Meals On Wheels Atlanta (MOWA) was founded in 1965 to support seniors struggling with poverty, food insecurity, and social isolation. Over more than 50 years, MOWA has grown from a small soup kitchen to an organization serving nearly 347,000 meals each year throughout the Atlanta area.
Meals on Wheels is a vital source for food delivery to seniors living in the Atlanta area so they do not go hungry.
You can donate to Meals on Wheels Atlanta or volunteer.
View fullsize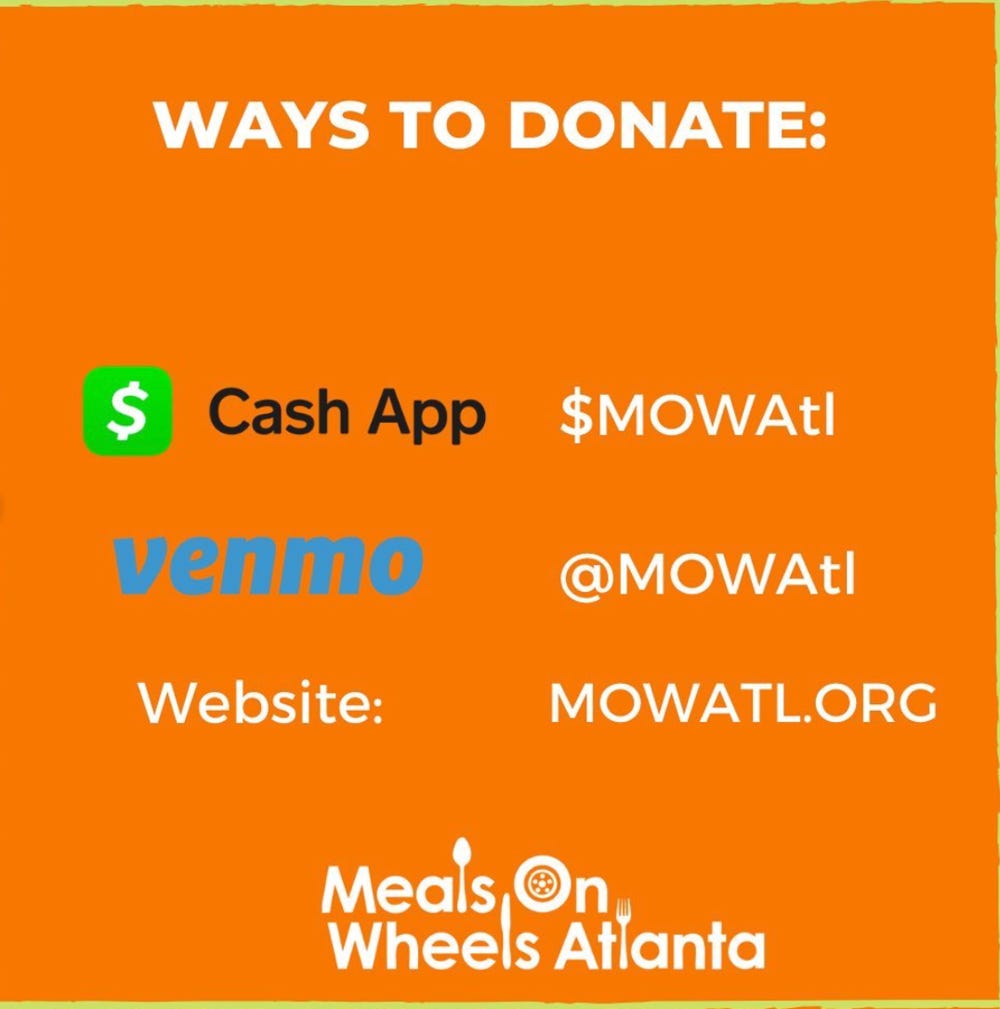 From the Instagram page of Meals on Wheels Atlanta.
Additionally, MOWA is accepting Venmo donations to @MOWAtl or via the $Cash app to $MOWAtl
The Giving Kitchen promises to help food service workers in this time of crisis:
"Continue to support food service workers with compassion and care by providing financial assistance to those in crisis due to an unexpected illness, injury, death of an immediate family member or housing disaster in Georgia. Food service workers in Georgia who have been diagnosed with COVID-19 and/or those who are under doctor's orders for a mandatory quarantine should ask for help"
You can donate to the Giving Kitchen here.
Every year, Atlanta Community Food Bank (ACFB) works with more than 600 nonprofit partners—including food pantries, community kitchens, childcare centers, night shelters and senior centers—to distribute over 60 million meals to more than 755,000 people in 29 counties across metro Atlanta and north Georgia.
ACFB has set up a COVID-19 response page here, and donations are needed. ACFB is working on purchasing additional food to help with emergency food distributions.
You can donate here.
Atlanta Mission provides emergency shelter, rehab and recovery services, vocational training, services, and transitional housing to more than 1,000 homeless men, women, and children every day.
You can find ways to help on this page.
With Atlanta Public Schools being closed for the foreseeable future, many students who relied on school lunches may be in a difficult position.
APS on Instagram has made the following update:
View fullsize
Free-bagged Meals (Breakfast & Lunch) at Five APS School Sites:
Beginning Monday, March 16, 2020, all APS students can daily receive free-bagged meals (breakfast and lunch) at five school sites that will be open for food distribution Monday through Friday from 10AM to 12PM:
Bunche Middle School

1925 Niskey Lake Rd., SW, Atlanta, GA 30331

Cleveland Avenue Elementary School

2672 Old Hapeville Rd., SW, Atlanta, GA 30315

Douglass High School

225 Hamilton E Holmes Dr., NW, Atlanta, GA 30318

Phoenix Academy (formerly Alonzo Crim High School)

256 Clifton St., SE, Atlanta, GA 30317

Sylvan Hills Middle School

1461 Sylvan Rd., SW, Atlanta, GA 30310
Additionally, Goodr has joined forces with Atlanta Public Schools to provide emergency food to APS students at five meal distribution sites listed above. See the announcement here.
The Zadie Project is a 501(c)3 non-profit organization helping to feed and educate children, families and seniors affected by food insecurity in Atlanta. The Zadie Project's mission is to combat food insecurity for families and seniors in Atlanta. Our non-profit makes soups and works with local organizations to distribute the quarts to individuals and families in need.
You can support The Zadie Project here.
(Update: added 3/17/2020)
Dusé Coffee is an Atlanta-made and community grown specialty coffee company. The company's mission is to fight against mental illness using coffee as a platform for change.
In this time of need (March/April), the company is raising awareness on hunger, sanitation, and hygiene.
You can support the effort in this this Go Fund Me campaign.
---
Editor's Note: Do you have a charity or non-profit organization that you think should be added to this post? Please leave a comment below or DM @atlantacoffeeshops on Instagram. ACS will update this post.