Editor's Note: this post is part of a travel series on the Atlanta Coffee Shops blog. The series is tagged #ACStravels so you can find it here on the blog or on social media.
---
If you are ever in Tokyo, Japan and are curious to see awesome 3D latte art, then Reissue Cafe (Japanese: リシュー) in the Harajuku area of Tokyo is a delightful stop. The coffee shop is all about fun, attracting people from all walks of life (including young Japanese students, tourists, and everyone in between) who want to see some wonderful (3D or 2D) latte art creations in their cup of coffee.
Atlanta Coffee Shops paid a visit to Reissue Cafe at the end of 2019, and this blog post serves as a profile of this quirky coffee shop. (Editor's Note: also see this post on the coffee shop storefronts of Japan, where Reissue Cafe was initially featured1).
So if you are bored with regular tulips, rosettas, or swans as latte art in your cup of coffee—read on, or pay a visit to Reissue Cafe in Harajuku, Tokyo, for a personalized experience.
Exterior Views
Reissue Cafe is fairly easy to find in Harajuku. The tiny doorway on Jingumae Street (located inside the Tanji building) is perhaps tough to spot, but you can't miss the welcome board (which will make become an important element further down in this blog post!):
View fullsize
The welcome board at Reissue Cafe. The coffee shop is located on the 2nd floor of the Tanji building.
View fullsize
Front of Reissue Cafe by night.
Interior Views
Reissue Cafe features an eclectic atmosphere. When you walk in, the hostess will ask how many are in your group. If you get to the cafe during a popular time slot, there may be a possibility that you will have to wait to get a table. When ACS visited, there was about a five minute wait to get a table (ACS was in a company with two other persons, with two more people joining a bit later in the evening).
The interior of the shop features several tables and a comfortable leather couch:
View fullsize
Inside of Reissue Cafe.
View fullsize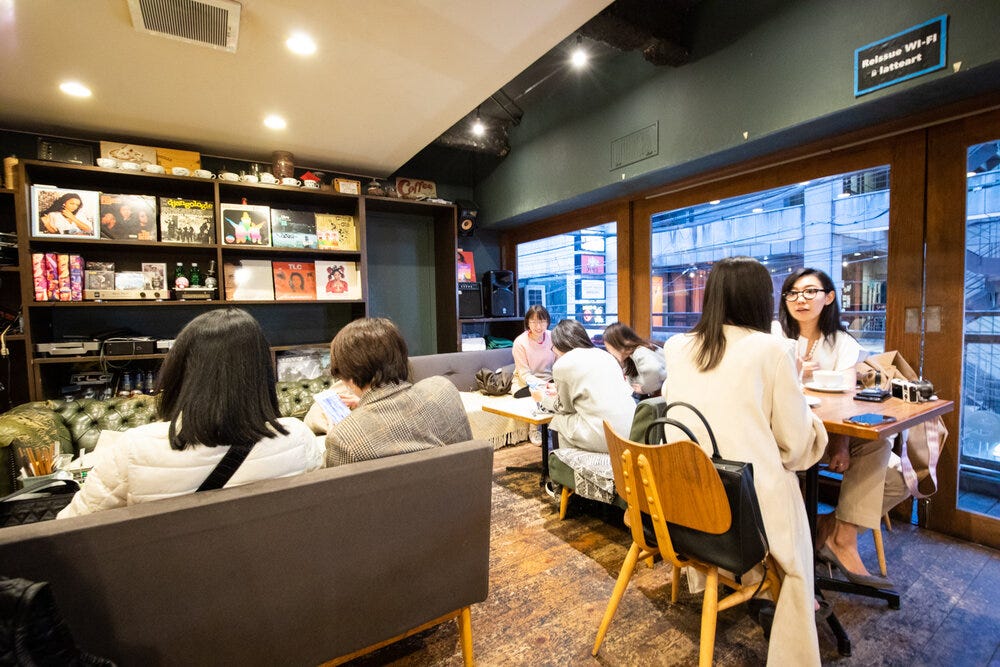 Interior views at Reissue Cafe in Tokyo, Japan.
The vintage vibe is apparent at Reissue Cafe with a number of classic vinyl hits at the back of the coffee shop, including hits by The Fugees, Sade, and TLC:
View fullsize
The back wall of Reissue Cafe features some classic hits.
The back wall of Reissue Cafe has a diverse collection of items—these are perhaps used to catch people's attention if the cafe is full and you are asked to wait some time to get a table.
View fullsize
Some fun tchotchkes found at Reissue Cafe in Harajuku, Tokyo, Japan.
More fun tchotchkes, art, and items of note at the back wall of Reissue Cafe:
View fullsize
Fun things inside Reissue Cafe.
The 3D Latte Art
Of course, you come to Reissue to get a coffee drink with 2D or 3D latte art. The menu has a selection of art options to pick from (most popular 3D latte art designs include an elephant, a cat, a dog, and several cartoon and anime characters). However, Reissue Cafe is also open to visitor requests for latte art, and they are often quite accommodating.
ACS requested an elephant 3D latte art as the selection (the cost was 1,000 Yen, or about $9.20 at the USD/JPY exchange rate at the time of visit).
View fullsize
The 3D latte art of elephant that Atlanta Coffee Shops requested.
A wide-angle view of the cute 3D latte elephant. It was worth the price!
View fullsize
Another view of the elephant latte art at Reissue Cafe.
One of the neat aspects about this cafe is the diverse representation of visitors all over the world that visit or have visited Reissue Cafe in the past. Upon noticing that we were speaking English in our group, the hostess approached us and asked us to pinpoint from where we were visiting. They have a wonderful map where you can place a sticker over your home town.
That blue dot on Atlanta? That's the mark from Atlanta Coffee Shops:
View fullsize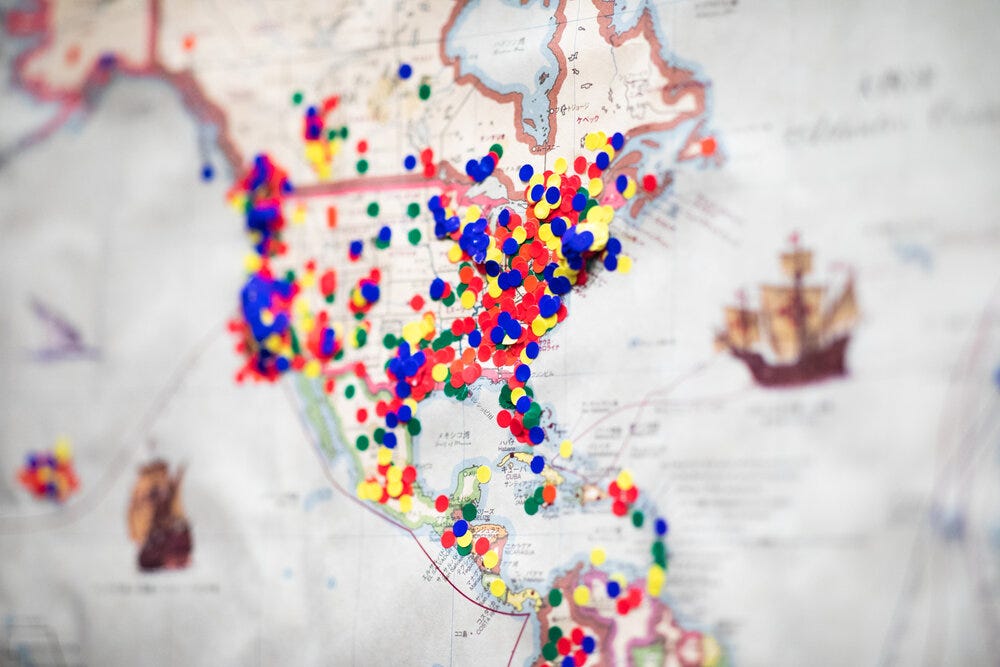 Detail of the map at Reissue Cafe where visitors have left their mark of their home town.
ACS was visiting Reissue Cafe with some Australian friends, and here was the moment of the sticker placement for Perth, Australia:
View fullsize
Australia has had quite the representation at Reissue Cafe over the years. Here, Perth gets another sticker.
Inside the shop, there is also a sign that hangs prominently from a celebrity (or perhaps a baseball player):
View fullsize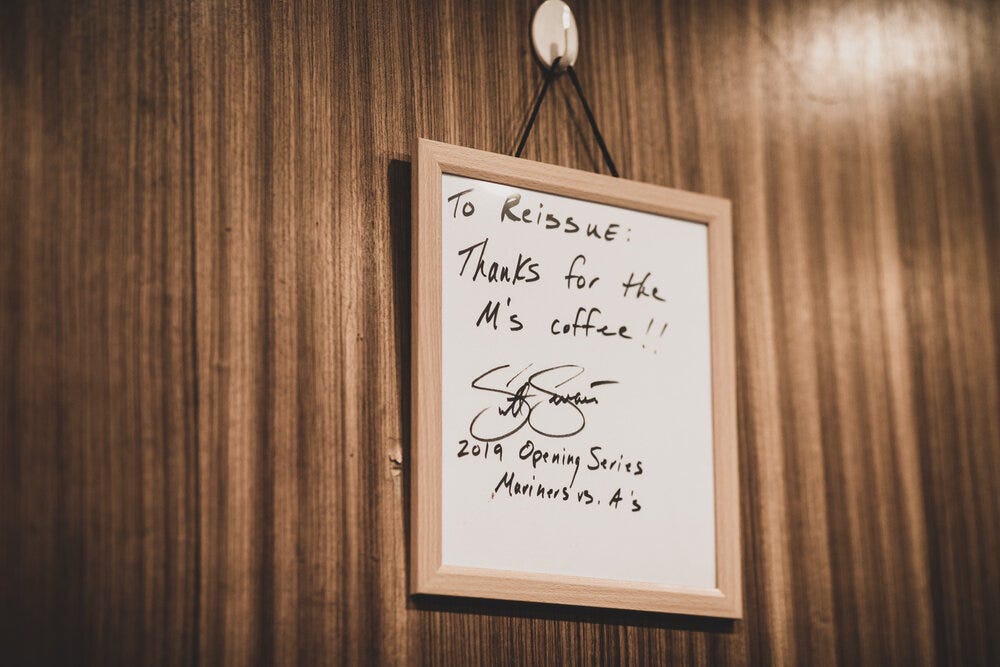 A sign at Reissue Cafe.
Making New Friends
The nature of Reissue Cafe and the fact that it such an Instagrammable place makes it a fun place to see what other people have ordered.
Atlanta Coffee Shops visited a nearby table during the visit and asked the Japanese students if they were receptive to having a photo captured of their 3D latte art. These three Japanese ladies were welcoming and wanted to learn more about Atlanta Coffee Shops.
Here, we see a cat and two Japanese cartoon/anime characters; the character at bottom left is Kuromi (from the Sanrio universe; note the distinguishing skull) and the character at top center (as it turns out) is the 3D mascot/logo of Reissue Cafe (see the introductory photo in this post or see here).
Thank you to all of the Instagram followers2 who joined ACS on this mini quest to figure out who these characters were! (Figuring out that the upper right character is the mascot of Reissue Cafe was not an insignificant effort.)
View fullsize
More 3D latte art at Reissue Cafe. Wonderful work by the artist, George!
View fullsize
Another angle of the 3D latte art at Reissue Cafe. Which is your favorite?
Personal suggestion: look around Reissue Cafe and see what others have chosen for their latte art. Perhaps initiate a friendly conversation to ask about their choice?
Also, note that Reissue Cafe is most famous for 3D latte art, but they also have traditional items on the menu such as tea, coffee, and beer.
The Artists at Reissue Cafe
There are currently two latte artists working at Reissue Cafe: George and Runa. During the ACS visit, the artist behind the scenes was George (here is his Instagram page; and here is his Twitter account, where @george_10g is a minor celebrity with 200,000+ followers!). (Editor's note: it is not clear what the 10g is in reference to in George's handle). The other latte artist, Runa, is a self-described actress (see @runapocket's Twitter page and @runapocket's Instagram page).
View fullsize
The artist at Reissue Cafe, @george_10g, shared his business card with Atlanta Coffee Shops. Thank you!
If you enjoyed this post, you can follow the Instagram pages of the two artists at Reissue Cafe (@george_10g and @runapocket):
View fullsize
Screenshot from Reissue Cafe's latte artist, george_10g. See George's Instagram account here.
View fullsize
More fun 2D and 3D latte art that @george_10g has shared. The extension of Pickachu's tail into a smaller cup is cute!
View fullsize
Screenshot from latte artist @runapocket on Instagram. See Runa's Instagram account here.
Final Say
Reissue Cafe in Tokyo is a quirky, fun coffee shop to see some amazing 3D (or 2D) latte art. Atlanta Coffee Shops has visited nearly 150 coffee shops in the United States, and not one coffee shop could replicate the 3D latte art that the artists at Reissue Cafe create on a daily basis.
So if you want to try something fun in Tokyo (in addition to all the bars, karaoke, and specialty coffee shops), then add Reissue Cafe in Harajuku on your itinerary. One thing is for sure: you'll definitely come away with something cool and impressive to add to your Instagram page or stories :-).
View fullsize
Good night from Reissue Cafe in Tokyo, Japan.
---
Reissue Cafe
Web | Facebook | Instagram | Twitter
Location:
Harajuku area ☕Tokyo, Japan
Address:
3 Chome-25-7 Jingumae
Shibuya City, Tokyo 150-0001, Japan
〒150-0001 東京都渋谷区神宮前3丁目25−7
ph: +81 3-5785-3144
Hours of operation:
Monday-Sunday: 10AM to 6PM
---
Notes and References:
1 Thanks to Olivia (aka, @foodistagirl) for recommending that ACS visit Reissue Cafe when visiting Japan!
2 A huge thanks to the following Instagrammers for helping ACS figure out the two cartoon/anime characters in the photo: @okaymistelyn, @just.holy, @maddy.gr912, @_meowdy, @rhinofeed, and @elainabaaklini.