Editor's Note: this post is part of a travel series on the Atlanta Coffee Shops blog. The series is tagged #ACStravels so you can find it here on the blog or on social media.
---
"We've got to look for the elephant sign!" I shouted with a bit of exasperation to an Australian couple who had joined me on this day in exploration of Kyoto.
We had just made a turn on Kawaramachi-dori Street, and I could not find the place. We went into one alley, only to find an art gallery and a subsequent dead-end. No coffee signs or elephants in sight.
We circled back again, and my determination grew stronger. "There's no way I am missing out on this coffee shop" I spoke in my mind.
Finally, I saw it from a distance and hopped forward with excitement. "I see it! It's here, follow me!" I shouted to the Australian couple who was likely getting weary from all this walking…
View fullsize
The (in)famous alley. Do you see the elephant sign?
Elephant Factory in Kyoto is very hard to find. It's like the coffee shop doesn't want to exist. Once you are on the right path within the alley, you notice that there is no entrance nearby. The reason? You've got to take the stairs up. There is an arrow that beckons you upstairs, gently guiding you on the correct path…
View fullsize
Follow the elephant sign…
But the challenge was not over yet. Now you've got to find the actual storefront entrance.
The feeling I had when I opened the door (there was no sign on the door indicating the name of the coffee shop, and no elephant logo) felt one of strong intrusion—I was hesitant and was prepared to profusely apologize if I stumbled into someone's apartment. But lo, with the twist of the door handle, I pushed inward and could not believe my eyes. Unfolding before me was a dimly lit, moody coffee shop sanctuary.
I instantly knew I was going to have one of the best coffee experiences of my life here at Elephant Factory.
View fullsize
The stairs leading up to the unsigned, nondescript front door of Elephant Factory.
I motioned to my Australian friends to follow me (they were taken aback and thought they had to keep climbing to another floor), which they did. On this particular visit, the coffee shop had a couple of spots open at the bar, and the proprietor (owner) of the coffee shop beckoned us to take a seat. You don't come to Elephant Factory to get "to-go" coffee.
View fullsize
A wooden elephant guards the front door of Elephant Factory.
I wanted to "check in" my phone to this location, but compounding the notion of "Elephant Factory does not want to be found" is the very simple fact that this coffee shop has no web site, no Instagram page, and no Facebook presence. I suppose people find the coffee shop through word of mouth or some local guide books. But as Atlanta Coffee Shops traveled throughout Japan, Elephant Factory was elusive even to the most fervent coffee aficionados and coffee professionals with whom ACS interacted (in Kyoto, Osaka, and a few other cities).
…
The owner invited us to peruse the menu and came back to get our orders several minutes later. In the meantime, I walked about the quaint interior and marveled at the moody lighting, the tables, the books at the back of the shop, and some of the other curious decor on the walls of the coffee shop.
View fullsize
Interior at Elephant Factory. Very moody.
There is a simple aesthetic at Elephant Factory: wooden tables and chairs, a one page menu (yes, English menu is available), and bare-bones walls.
View fullsize
A simple aesthetic at Elephant Factory: wooden tables and chairs, a one page menu, and bare-bones walls.
View fullsize
The menu at Elephant Factory.
The go-to order was the medium roasted straight from Tanzania (700 Yen). Everything on the menu is pricey, but consider the sourcing of the beans. They are shipped twice a week to Elephant Factory Coffee after being freshly roasted at one of the most remote and distant regions of Japan: the northern tip of Hokkaido (near the town of Bihoro; see it on a Google Map). My Australian friends went with a dark roasted Mandheling (Indonesian Sumatran coffee) straight and the coffee of the month, in addition to a slice of cheesecake.
As the owner of Factory Coffee began his preparations, I politely asked him if it was alright for me to capture photos. He nodded.
I captured the photos below of the master at his craft. Every step of the process was planned and acted with purpose and deliberate action. This was a coffee ritual unfolding, with the master having perfected the process over a decade or more. Beginning with boiling the hot water, to grinding the beans, to pouring the water—it was a fascinating seven to ten minutes of display. The concentration of the master was fierce.
As I write this essay, reflecting back, I realize now that the nod of acquiescence for me to capture photos was one of politeness, likely met with (deserved) skepticism—would I intrude on his efforts? Would I spoil his concentration?
I was courteous in the process, using a wide-angle lens to capture the scenes and staying at least six to eight feet away. Nevertheless, the experience at Elephant Factory was perhaps the only one in all of Japan (having visited over twenty-five coffee shops) where I felt like I was overstepping my bounds with the photography, and for that, I apologize.
View fullsize
Getting the boiling water ready.
View fullsize
The coffee pour-over begins. The concentration on the owner's face is fierce.
View fullsize
Detail of the pour-over at work at Elephant Factory in Kyoto, Japan.
As I watched the coffee being prepared, I darted slowly back and forth to capture photos of the space. One of my favorites turned out to be the image below, a customer perusing social media, attention diverted away—while the master at his craft, focused on a singular task at hand. What a stark contrast between these two worlds.
View fullsize
Interior view of Elephant Factory. The space is small but sufficient to make some incredible pour-over coffee.
View fullsize
A cornucopia of objects on the shelves at Elephant Factory. It's a bit mysterious, a bit creepy.
View fullsize
Elephant Factory. The only downside to the overall experience is that the coffee shop is not smoke-free.
View fullsize
Explorations inside Elephant Factory in Kyoto, Japan.
One of my favorite elements was at the back of the coffee shop where there was this stack of books, pleading with a guest to be read. Perhaps this is a fine illustration of tsundoku (積ん読) —the Japanese word that has no English equivalent but roughtly translates to "an accumulation of books piling up without reading them." I captured this photo and moved on, not wanting to disturb a family with two young children who were reading books together (to the right of frame).
View fullsize
The moment our coffees arrived, we were already primed with anticipation. And the experiment / taste didn't disappoint: we had some of the best coffee in Kyoto (and in all of Japan) here at Elephant Factory.
I didn't taste the cheesecake, but my Australian friends commented on how delicious it was.
View fullsize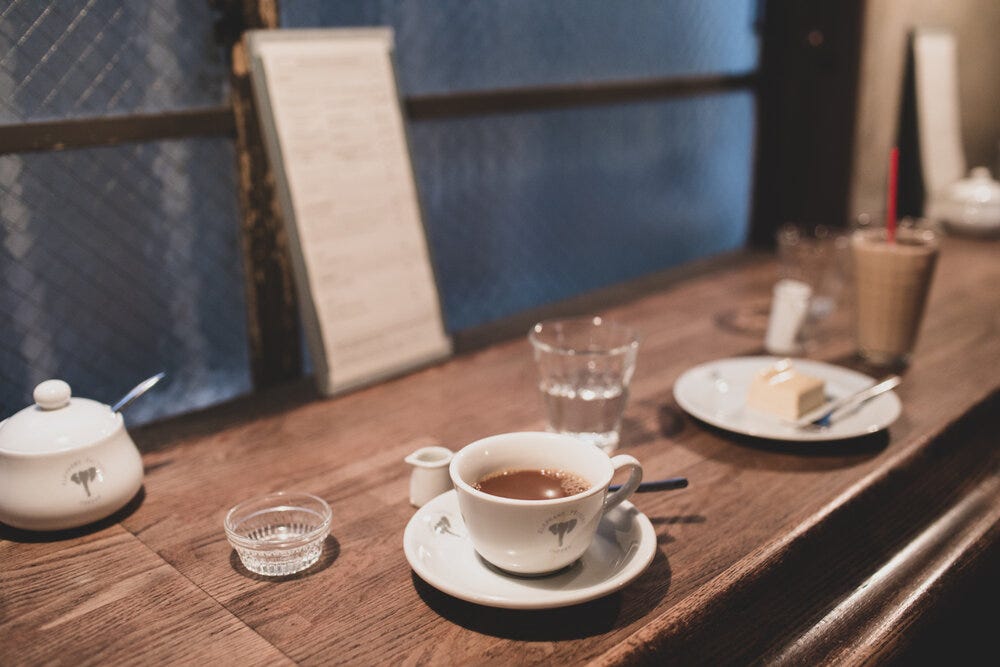 Coffee at Elephant Factory.
View fullsize
Final Thoughts
Elephant Factory Coffee in Kyoto represents everything that I was looking for in a coffee shop in Japan: moody interior vibes, high-quality coffee beans, and an exquisite, methodical preparation of the coffee by a true artisan of the craft. The overall experience was unforgettable.
If you are ever in Kyoto and want to have an incredible coffee shop experience, just look for the elephant sign in a tiny alley near Kawaramachi-dori Street.
Tell the master Atlanta Coffee Shops sent you.
View fullsize
"Just look for the elephant sign" became a rallying cry in the days subsequent to my visit to this incredible coffee shop in Kyoto, Japan.
---
Elephant Factory Coffee
(no web or social media presence)
Location:
Nakagyo Ward ☕Kyoto, Japan
Address:
309 Bizenjimacho, Nakagyo Ward
Kyoto, 604-8023, Japan
ph: +81 75-212-1808
Hours of operation:
Monday-Wednesday: 1PM to 1AM
Thursday: closed
Friday-Sunday: 1PM to 1AM
Coffee Offerings:
Varies; seasonal; medium to dark single-origins and blends from Indonesia (Sumatra and Sulawesi), Rwanda, Tanzania, Guatemala, and Ethiopia
Prices:
Range from ¥700 to ¥750 for a single cup; teas are priced at ¥950; mini homemade cheesecake is ¥500.
---
Subscribe to the Atlanta Coffee Shops Newsletter
Sign up with your email address to receive news and updates about Atlanta Coffee Shops and the occasional #ACStravels feature posts from far-flung places from your humble coffee correspondent.
First Name Last Name
Email Address Sign Up
We respect your privacy.
Thank you!